Bucharest Photo Week 2017 & OMNIA PHOTO
[EN]
The 4th edition of Bucharest Photo Week, one of the most important photography festivals in the capital, begins on September 11th. This year's events will take place until September 17, in several Bucharest districts, being mostly dedicated to street and document photography as well. In addition to exhibitions and workshops, Bucharest Photo Week also means the opportunity for photographers to meet with some of the most popular and talented photographers in Romania and abroad. Most events will take place at Gallery Cafe, F64 and Education Point, as well as in the spaces provided by Studio Ambrotipescu.
Gallery Cafe will be the headquarter for Bucharest Photo Week, where participants will find three of the exhibitions, as well as a range of promotional materials and general information about the festival. There will also be workshops and presentations of Bucharest Photo Week.
Another series of activities under Bucharest Photo Week will take place in Craiova, at the Omnia Library, where you will meet the "People and Places in the Photography of Cristinel Tranca" from 1970-1980 in an neverseen before exhibition The photo from the Tranca collection are undergoing digitization and restoration. The event is organized by Omnia Photo together with Mircea Faria Fotoclub in Craiova.
Among the photographers taking part in this year's Bucharest Photo Week are: David Gaberle (Czech Republic), Jan Bernhardtz (Sweden), Simon Johansson (Sweden), Cristian Crisbasan, Andrei Baciu, Cristina Irian, Irina Gache, Alexandra Crisbasan, Andreea Retinschi Of the On Spot group (both in the country and abroad) or @celulafoto.
The spectators will have the opportunity to participate in events related to the Costica Acsinte Collection, to dagheterotypes together with the researcher Calina Bârzu and the vernacular travel photography together with Cristina Irian, with examples of Romanian portraits in images from the end of the 19th century to the 1940s.
There will also be an exhibition with the photographs of Victor Boldar, photos from the 1970s.
Creative photography workshops will take place using different shooting techniques organized by Studio Ambrotipescu with the support of Cezar Popescu, Costică Acsinte Collection, as well as a print workshop organized by Ciprian Furtună (AZERO / MyPoster).
There will also be a party dedicated to photographers alongside DJ Ivanna Ravac and another evening with music at the closing of the festival, in the company of Toutefois.
Soon, as we complete the program of activities, we will return with news both on the site and on Facebook.
Most events will be free of charge, within the limits of available places.
The Bucharest Photo Week is organized by the Exposure Association, in association with ANAV (National Association for Contemporary Visual Arts) and Omnia Photo Association.
If you are passionate about photography, we are looking forward to seeing you between September 11 and 17. Save the date!
[RO]
Cea de-a patra ediție a Bucharest Photo Week, unul dintre cele mai importante festivaluri de fotografie din capitală, începe pe 11 septembrie. Evenimentele din acest an se vor desfășura până în data de 17 septembrie, în mai multe spații din București, fiind în mare parte dedicate și de această dată fotografiei de stradă și celei documentare. Pe lângă expoziții și ateliere, Bucharest Photo Week mai înseamnă și ocazia pentru iubitorii de fotografie de a se întâlni cu unii dintre cei mai populari și talentați fotografi din România și din străinătate. Majoritatea evenimentelor se vor desfășura la Gallery Cafe, F64 și Education Point, dar și în spații puse la dispoziție de Studio Ambrotipescu.
Gallery Cafe va fi Casa Bucharest Photo Week, locul în care participanții pot găsi trei dintre expoziții, dar și o serie de materiale promoționale și informații generale despre festival. Tot aici vor avea loc o parte dintre atelierele și prezentările Bucharest Photo Week.
De asemenea, se vor desfășura o serie de activități sub egida Bucharest Photo Week și la Craiova, la Biblioteca Omnia, unde vă veți întâlni cu "Oamenii și locurile din fotografia lui Cristinel Trancă", din anii 1970-1980, într-o expoziție inedită de fotografie din colecția Trancă, aflată în curs de digitalizare și restaurare. Evenimentul este organizat de Omnia Photo împreună cu Fotoclubul Mircea Faria din Craiova.
Printre fotografii care participă anul acesta la Bucharest Photo Week se numără: David Gaberle (Cehia), Jan Bernhardtz (Suedia), Simon Johansson(Suedia), Ken Taranto (Israel), Cristian Crisbasan, Andrei Baciu, Cristina Irian, Irina Gache, Alexandra Crisbasan, Andreea Retinschi, Dragoș Radu Dumitrescu și membri ai grupului On Spot (atât din țară, cat și din străinătate) sau @celulafoto (Neagu Maier Romulus, Mihai Ciama, Radu Mihai Iani, Vrăbiuță Albert Adrian, Alex Cruceru, Adrian Gabor etc,).
Spectatorii vor avea ocazia să participe la evenimente legate de Colecția Costică Acsinte, de daghereotipii împreună cu cercetătoarea Calina Bârzu și fotografie istorică vernaculară de călătorie împreună cu Cristina Irian, cu exemple de portretizări ale românilor în imagini de la sfârșitul secolului XIX până în anii 1940.
Vor fi prezente în festival și fotografii celebre, document, ale fotografului Victor Boldâr, din anii 1970.
Se vor desfășura ateliere creative de fotografie utilizând diferite tehnici de fotografiere și imagini de arhivă, organizate alături de Studio Ambrotipescu cu sprijinul lui Cezar Popescu, Colecția Costică Acsinte, precum și un atelier de printing organizat alături de Ciprian Furtună (AZERO/MyPoster).
De asemenea, va exista și o petrecere dedicată fotografilor, alături de DJ Ivanna Ravac și o altă seară cu muzică la închiderea festivalului, în compania celor de la Toutefois.
În perioada următoare, pe măsură ce definitivăm programul de activități, vom reveni cu noutăți atât pe site, cât și pe Facebook.
Majoritatea evenimentelor vor fi cu participare gratuită, în limita locurilor disponibile în sală.
Festivalul Bucharest Photo Week este organizat de Asociatia "Exposure", în asociere cu ANAV (Asociatia Nationala pentru Arte Vizuale Contemporane) și Asociația Omnia Photo.
Dacă ești pasionat de fotografie, te așteptăm cu drag alături de noi, între 11 și 17 septembrie. Save the date!
Event posters.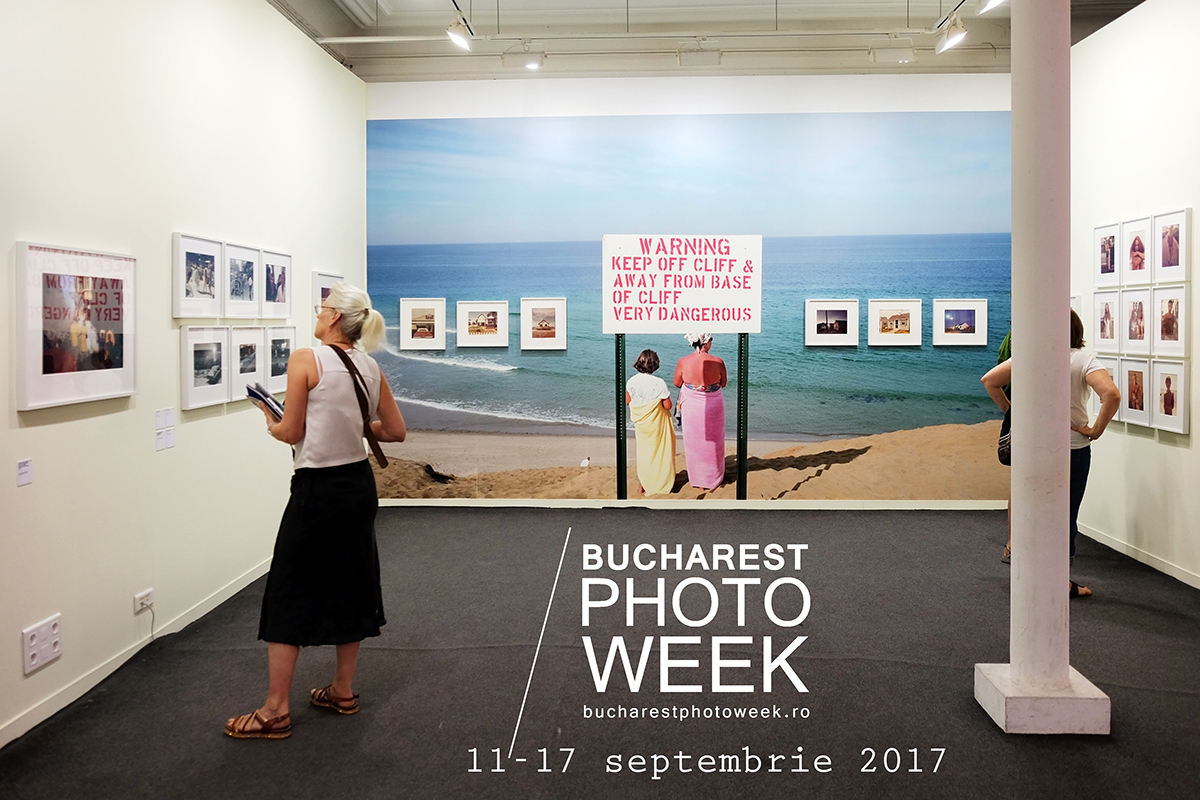 Galleries.
Ken Taranto – The Settlements & Simon Johansson – Across The Bridge. (photos: Alex Cruceru)
Cristinel Trancă – De pe peliculă în lumea digitală (photos: Mihai Diaconu)
Studio Foto Ambrotipescu workshops (photos: Paul Paun)
Victor Boldâr – 07.05.75 Impresii. Henri Cartier-Bresson în Oltenia. (photos: Cristina Irian)
Jan Bernhardtz – Sweden. 1970 (photos: Cosmin Garlesteanu)
Atelier de printing Ciprian Furtună (AZERO/MyPoster)(photos: Gabriel Voicu)