DIALOG Project – Diversity in Arts. Learning Opportunities and Growth

(EN)
The project DIALOG includes multiple events that, regardless of their form (performing arts, photography, cultural circuits and so on), will share the same thing – promoting the cultural identity of communities and diversifying the cultural offer.
The project involves 4 partners, including a Norwegian partner.
In the case of theater, dance and contemporary performance, the identified needs include production support, attracting and developing the public, and increasing cultural consumption. Thus, in order to meet these needs, we are proposing the Caleido Performing Arts Festival, a continuously developing festival that promotes cultural diversity.
Through the Walk & Shoot festival, we want to increase cohesion in the photographic community and to develop the audience for photography.
Actions promoting material heritage are typically formal and unattractive. We propose an alternative, through which the heritage (community fountains in Oltenia) will be promoted through performing arts.
Lise Wulff, a visual artist from Norway will develop an artistic workshop in Bucharest and create an artistic installation in a public space in the city.
Thus, we aim to strengthen intercultural dialogue and increase public access to culture through a program of events focused on promoting multiculturalism and cultural diversity .

The press conference "Intercultural dialogue and increasing public access to culture" took place on 18th June 2020.

DIALOG is a project funded by the EEA Grants 2014 – 2021 under the RO-CULTURA Program.

***

The Omnia Photo Association develops programs, projects and partnerships so as to support Romanian cultural heritage, historical photography and contemporary visual arts.

***

The EEA Grants represent the contribution of Iceland, Liechtenstein and Norway towards a green, competitive and inclusive Europe.

There are two overall objectives: reduction of economic and social disparities in Europe, and to strengthen bilateral relations between the donor countries and 15 EU countries in Central and Southern Europe and the Baltics.

The three donor countries cooperate closely with the EU through the Agreement on the European Economic Area (EEA). The donors have provided €3.3 billion through consecutive grant schemes between 1994 and 2014. For the period 2014-2021, the EEA Grants amount to €1.55 billion.

Learn more on www.eeagrants.org

The RO-CULTURA Program is implemented by the Ministry of Culture through the Project Management Unit and has as general objective the consolidation of economic and social development through cultural cooperation, cultural entrepreneurship, and cultural heritage management. The budget of the Program is 34 million Euros.

Learn more on: www.ro-cultura.ro/en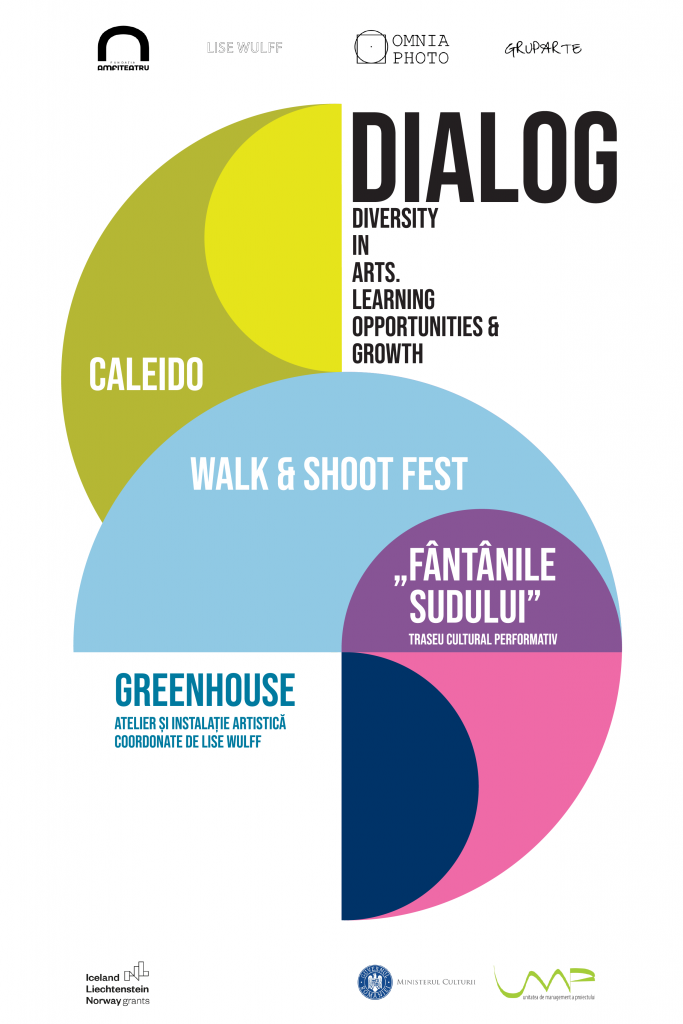 (RO)
Proiectul cuprinde evenimente multiple care, indiferent de forma lor (arte performative, fotografie, circuite culturale ș.a.m.d.) au în comun același lucru – valorificarea identității culturale a comunităților și diversificarea ofertei culturale.
Proiectul implică 4 parteneri, dintre care un partener Norvegian.
În cazul teatrului, dansului și performance-ului contemporan, nevoile cuprind de la sprijinirea producției, la atragerea și dezvoltarea publicului sau la creșterea consumului cultural. Astfel, pentru a răspunde acestor nevoi propunem Festivalul de arte performative Caleido, un festival în continuă dezvoltare, care promovează diversitatea culturală.
Prin festivalul Walk & Shoot dorim să creștem coeziunea în comunitatea fotografică și să dezvoltăm publicul pt fotografie.
De obicei, acțiunile de promovare a patrimoniului material sunt de regulă formale și neatractive. Omnia Photo propune o alternativă, prin care patrimoniul vernacular, fântânile comunitare din Oltenia, va fi promovat prin arte performative.
Artista vizuală Lise Wulff din Norvegia va susține un atelier artistic în București și va crea o instalație artistică într-un spațiu public din oraș.
Așadar, ne propunem să consolidăm dialogul intercultural și să creștem accesul publicului la cultură printr-un program de evenimente axate pe promovarea multiculturalismului și a diversității culturale.

Conferința de lansare a proiectului DIALOG "Intercultural dialogue and increasing public access to culture" a avut loc în data de 18 Iunie 2020.

Proiect finanțat prin Granturile SEE 2014 – 2021 în cadrul Programului RO-CULTURA.
***
Asociația Omnia Photo desfășoară programe, proiecte și parteneriate în scopul sprijinirii patrimoniului cultural, fotografiei istorice și artelor vizuale contemporane din România.

***

Granturile SEE reprezintă contribuția Islandei, Principatului Liechtenstein și Regatului Norvegiei la reducerea disparităților economice și sociale în Spațiul Economic European și la consolidarea relațiilor bilaterale cu cele 15 state beneficiare din estul și sudul Europei și statele baltice.

Aceste mecanisme de finanțare sunt stabilite în baza Acordului privind Spațiul Economic European, ce reunește statele membre UE și Islanda, Liechtenstein și Norvegia ca parteneri egali pe piața internă.
În total, cele trei state au contribuit cu €3,3 miliarde între 1994 și 2014 și €1,55 miliarde pentru perioada de finanțare 2014-2021.
Mai multe detalii sunt disponibile pe: www.eeagrants.org și www.eeagrants.ro
***
Programul RO-CULTURA este implementat de Ministerul Culturii prin Unitatea de Management a Proiectului și are ca obiectiv general consolidarea dezvoltării economice și sociale prin cooperare culturală, antreprenoriat cultural și managementul patrimoniului cultural.
Bugetul Programului este de 34 milioane de euro. Mai multe detalii sunt disponibile pe: www.ro-cultura.ro