FANTANILE OLTENIEI MMXVI – THE WATER WELLS OF OLTENIA MMXVI
(RO)
Despre albumul fotografic FÂNTÂNILE OLTENIEI MMXVI

Multe fântâni fuseră în Oltenia, spun localnicii, dar și puține rămaseră în picioare, oamenii împrăștiindu-se, locurile schimbându-și proprietarii, drumurile și hotarele. S-a dus vorba cum că fântâni ar mai fi, dar că se distrug repede și că ar trebui să știm ceva despre ele. De aici s-au plănuit drumuri cu oameni știuți de-ai locurilor, pentru a le înșira pe hartă pe cele ce rezistă trecerii timpului.

Albumul fotografic FÂNTÂNILE OLTENIEI MMXVI cuprinde lucrări ale fotografilor documentariști Cristian Bassa și Dorian Delureanu și este rezultatul unui proiect de cartografiere a fântânilor de uz comunitar din Oltenia, România, proiect care se continuă și astăzi.

Prin călătoriile lor, desfășurate în anul 2016 în peste 40 de locuri din județele Dolj și Mehedinți, cei doi fotografi, Cristian Bassa și Dorian Delureanu, au avut ca obiectiv o primă documentare a unor fântâni vechi din această parte a Olteniei și a spațiilor în care acestea se regăsesc.

În proiect sunt incluse fântânile comunitare din sate și fântâni de hotar/răscruce, multe aflate într-un stadiu avansat de degradare. Odată cu dispariția lor, o hartă a peisajelor și traiectoriilor vieții rurale cotidiene din Oltenia s-ar risipi.

Fotografiile au fost realizate atât pe film cât și în format digital, alb-negru, dar și color, tocmai în ideea de a percepe imaginea acestor fântâni ca document de arhivă, dar și ca loc viu.
---
FÂNTÂNILE OLTENIEI MMXVI
Ana-Cristina Irian: documentare, text
Dorian Delureanu: fotografie
Cristian Bassa: editare, fotografie
Editura OMNIA PHOTO, București, 2022
ISBN 978-606-94598-4-3
50 exemplare numerotate și ștampilate.
Corp: 168 pagini, tipar față, digital, 21x16cm:
66 fotografii alb-negru și color, 18x12cm, tipărite pe hârtie Dcm 200gsm.
9 pagini prefață tipărite pe hârtie Olin Smooth Cream 170gsm.
2 pagini harta tipărite giclée pe folie clear film cu substrat de alb.
Coperta: Mucava gri 3mm, imprimata manual tipar monocrom după o matrița gravata laser.
Sistem prindere: 3 inele de legătorie, metalice, articulate și un lant 9 zale Genoese Chain no.20 de 4.4mm, placat cu zinc.
Tipar și asamblare: Azero.ro / Myposter.ro.
---
Cartea o poți comanda doar prin email la: asociatiaomniaphoto@gmail.com menționând datele de contact, datele de facturare și modalitatea de livrare. Fondurile obținute din vânzarea tirajului sunt utilizate integral pentru editarea și publicarea unui alt album fotografic de către asociație.
Preț unitar: 120 RON (prețul nu include transportul – acesta este suportat de cumpărător și se poate face prin curier/poșta română doar pentru România sau predare personală în București/Craiova în limita disponibilității)

Plata se efectuează în contul: RO11 BRDE 170S V461 1286 1700/ BRD Suc. Craiova/ ASOCIATIA OMNIA PHOTO cu indicația "Fantanile Olteniei".
---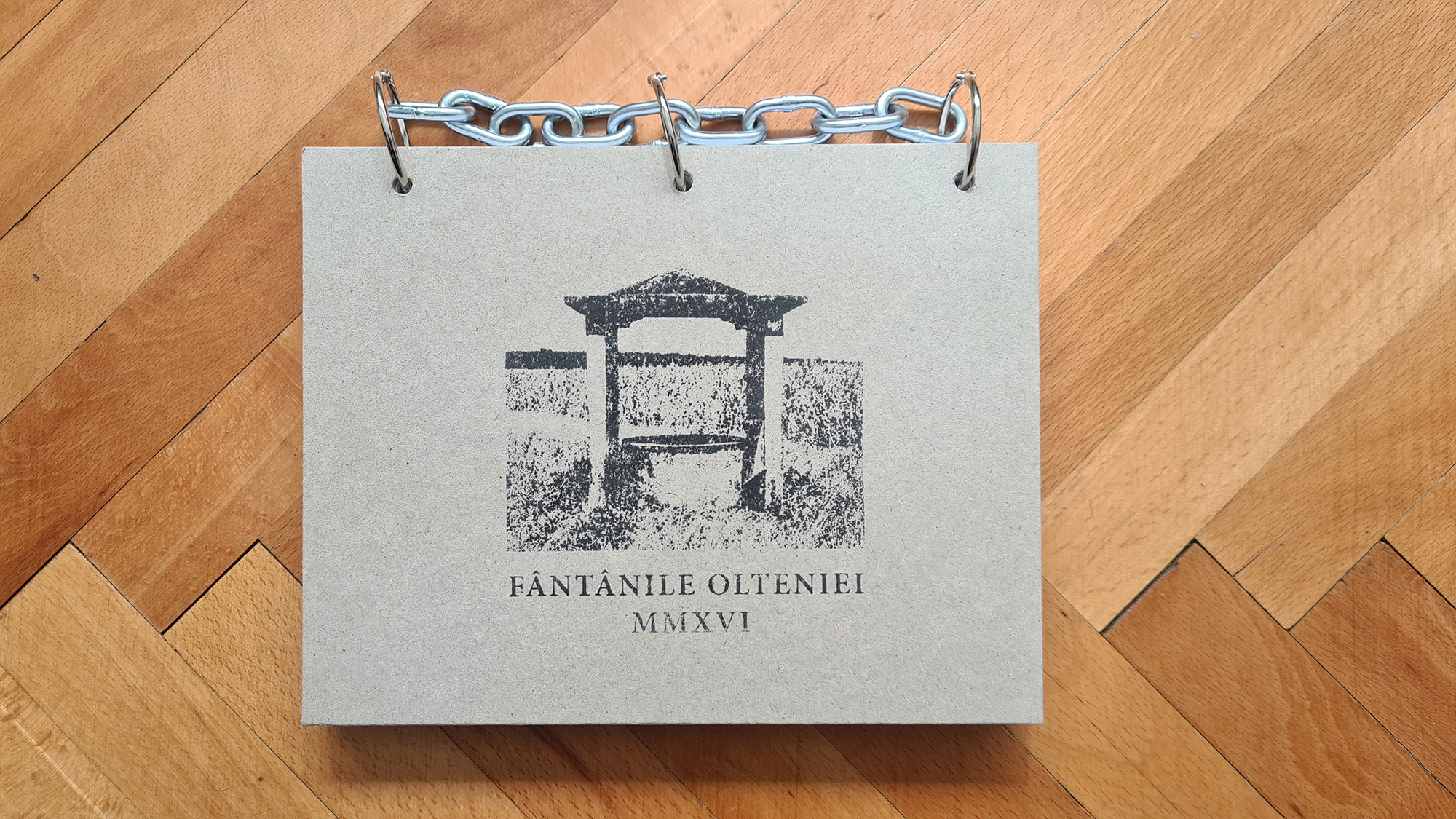 ---
(EN)
About the WATER WELLS OF OLTENIA MMXVI photo album

There were many water wells in Oltenia, the locals say, but few were left standing, as people scattered, and places changed their owners, their roads and their borders. Word has got around that there still are wells, but that they are being destroyed quickly and that we should know some things about them. Hence, trips were planned with known people from the area, in order to map the ones that endure the passage of time.

The WATER WELLS OF OLTENIA MMXVI photo album includes works by documentary photographers Cristian Bassa and Dorian Delureanu and is the result of an ongoing project to map water wells for community use in the Oltenia region of Romania.

Through their travels carried out in 2016 in over 40 places in Dolj and Mehedinți, the two photographers, Cristian Bassa and Dorian Delureanu, aimed at an initial documentation of some old wells in this part of Oltenia and of the spaces where these are found. The project includes community wells in villages and wells found at borders/crossroads, many of which are in an advanced stage of degradation. With their disappearance, a map of Oltenia's landscapes and trajectories of everyday rural life would go to waste.

The photos were taken both on film and in digital format, in black and white, but also in color, precisely in order to perceive the image of these wells as an archive document, but also as a living place.